Yellow Barn Farm
5511 East Valley Road
Alfred Station, NY 14803, United States
Phone: (607) 324-2200

---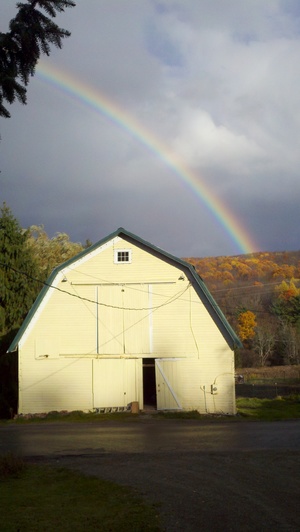 About Us
When we started Yellow Barn Biodynamic Farm our goal was to feed our kids the purest food possible. Sustainable agriculture had been the intersections of our passions and careers importing and distributing organic foods, however we'd never been farmers.
Our rural home was on 20 acres of land originally part of a larger farm established in the 1830s and abandoned following WWII. We have added neighboring acreage that was part of the original farm and today our family farm totals 80 acres located in New York State in Allegany county. We have an abundance of long forgotten old growth apple trees where we have cleared brush and thorns (multi floral rose, grrrrr!) to give them light and space. We've planted a small orchard with more apples, as well as peaches, cherries, apricots, and pears. We're in the process of establishing a vineyard. Recently we began to wild forage ramps and deliver to farm to fork restaurants in Manhattan and Brooklyn and leading retailers like Wegmans. This year we started to inoculate bolts of beech logs with mycelium to grow mushrooms. We have chickens and ducks and turkeys. We have raised pigs. We're learning more about cows and see their addition to the farm in the near future.
All parents worry about what they feed their kids. We felt a powerful impulse to nurture the land with and for them. We wanted to better understand what it meant to farm sustainably. We are learning as we go as a family, and increasingly our three children are leading projects around the farm. We participate in farmer trainings locally and attend Biodynamic Conferences to increase our understanding of farming to the Demeter standard. Sometimes it's difficult to separate play from work at the Yellow Barn Farm. We spend time together as a family, and we know our farmer!
Certified Products
Crops
Fruit

Apples
Cherries
Melons
Peaches
Pears
Plums

Vegetables

Beetroot
Broccoli
Cucumbers
Lettuce
Peas green
Pumpkin
Radishes red
Turnips

Legumes

Beans

Fodder and grassland

Fodder crops

Other crops

Ornamental plants
Other annual crops
Acreage
Cropped: 5 Acres
Total Acreage: 80 Acres